In a region steeped in history and nature Grow West is taking the idea of rebuilding literally. Through this new industry, we are changing lives, healing patients and our community.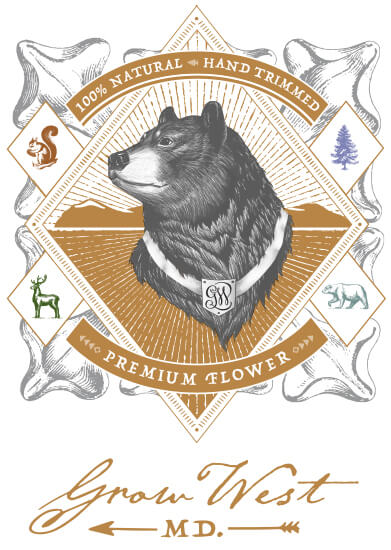 Meet our mascot George, a native black bear of Western Maryland. His family has been in the region for generations, and witness to the changing face of our American City, from Frontier Fort to Military Headquarters, busy terminus of the C & O canal, to thriving Railroad, Mining, Manufacturing and Tourism town.
From the North Branch of the Potomac River one can follow the C & O Tow Path to Georgetown, Washington DC. A fact not lost on George Washington, when he promoted construction of the Canal.
Just as an old George dreamed of bringing goods down the Potomac all the way to the sea, Grow West (with the oversight of our new George), is bringing our pure, clean, premium cannabis from the mountains to the sea and every place in between.
Today, Grow West Cannabis Company delivers top-shelf flower and products to over eighty-nine dispensaries in the state.
Try our flower, the even, slow burn, the taste
and aroma of the high-terpene values.
You will join the connoisseurs and patients who know and appreciate the fine quality
and the healing, restorative value of this incredible plant.
Cambodian Thai x BOEL Skunk
---
Cambodian Thai x BOEL Skunk is a sativa-leaning hybrid that combines Cambodian and Thai landrace sativa strains with BOEL Skunk. The BOEL Skunk strain was protected from government seizure thanks to the Brotherhood of Eternal Love (BOEL). Find your sunshine any time of the day with this strain.
Forum Cookies x Aliendawg Cherry
---
Forum Cookies x Aliendawg Cherry is a sativa-leaning hybrid with Durban Poison x Kush, Chemdawg x Alien Technology, and Granddaddy Purple x Durban Poison lineage. Explore a universe of flavors that contain hints of spice, citrus, cherry, and earthiness at any time of day.
FPOG x Sour Dub
---
FPOG x Sour Dub is a sativa-leaning hybrid. FPOG lineage is Green Ribbon x Granddaddy Purple x Tahoe OG x Alien Kush. Sour Dub has East Coast Sour Diesel x Sour Bubble lineage. Enjoy a variety of fruity, tropical, citrus, and earthy scents! This indulgence is perfect for any time of day.
Nurse Jackie
---
Introducing your new herbal caretaker, Nurse Jackie! Nurse Jackie is a sativa strain with Jack the Ripper x Medicine Woman lineage. The aroma of this strain is a blend of pine, herbs, and citrus scents. You can enjoy Nurse Jackie anytime throughout the day.
Pie Crust
---
Pie Crust is a sativa-leaning hybrid with Malibu Pie x Grapple Cookies lineage. In the state of Maryland, Grow West is the sole cultivator of the exclusive Pie Crust strain. Experience the delicious flavors of Pie Crust, featuring a perfect blend of citrus, earthy notes, and floral aromas. Just like any dessert, you can indulge at any time of day.
Southwest Stomper x William's Wonder
---
Southwest Stomper x William's Wonder is an indica-leaning hybrid with Grape Stomper x Afgooey lineage, while the parentage of William's Wonder is unknown. This strain is known for its strong musk aroma and its potent indica effect makes it perfect for evening use.